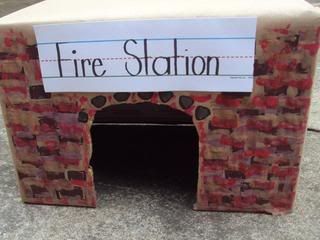 This week, we will be talking about modes of transportation. Allison, at No Time for Flashcards, made a hospital out of a cardboard box. We took the same idea, and made a Fire Station.
Materials:
A Cardboard Box
Clear Tape
Tempera Paint
A Black Sharpie Marker
A Knife or Sturdy Scissors
A Sentence Strip
Craft Paper or Butcher Block
1.First, wrap the box with paper.
2.Next, cut an opening for the door.
3.Use the Sharpie to draw your design.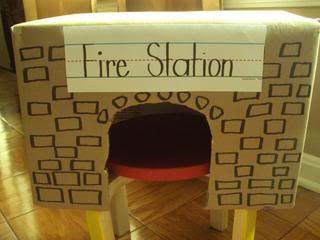 You can also use a sentence strip to label the structure.
4.Paint your design.
I ended up using a sponge brush.
It made nice bricks.
5.Let it dry.
6.Throw in a few fire trucks, and play!
My son loved making the trucks go in and out of the station. He even made his other vehicles visit the station. My personal favorite was a taxi visiting the Fire Station.
He was so engaged, that I am thinking of making other structures for him to use with his vehicles. We made a hospital too.
.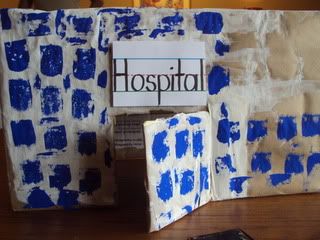 Any other suggestions?